Capital Club Dubai
Dubai,
U.A.E.

Dubai,
U.A.E.

Dubai,
U.A.E.

Dubai,
U.A.E.

Dubai,
U.A.E.
Capital Club Dubai is a private business club that operates in the heart of the Dubai International Financial Centre (DIFC).
It is a progressive ecosystem of business leaders, naming and framing the relevant conversations of both current and futuristic challenges that business is facing across industries and the economy. Engaging with the world's greatest minds, cultivating an environment and a culture of staying ahead of the curve.
Spread over 4 sprawling floors covering thousands of square footage, the Club offers an all-encompassing business and lifestyle experience with an array of dynamic, flexible amenities.
City Club

Conference & Meetings

Athletic
Gate Village, Building 3, Dubai International Financial Centre
Dubai
U.A.E.
Dubai International Airport
15 mins Taxi Ride
Garden & Terraces
Al Fresco Dining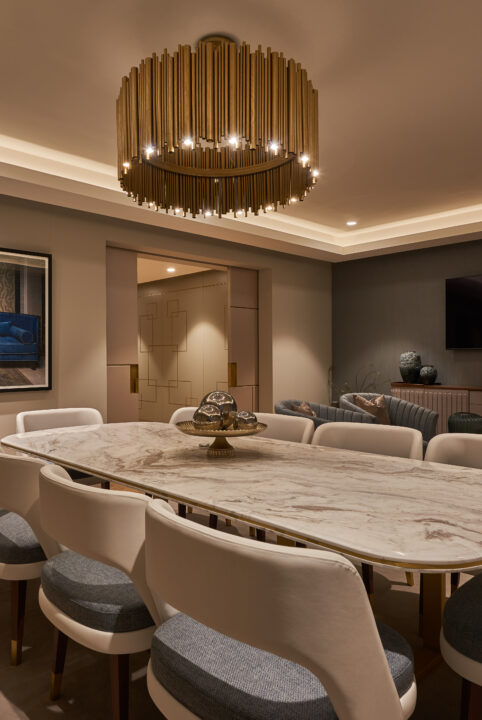 Amenities
MEMBERS BAR
The hub of the Club, the place our Members go to see who is in and what is happening. Beautifully designed in a classic Members club tradition, it feels timeless yet completely modern. We offer a wide range of drinks, from hipster cocktails to classic wines and spirits.

MEMBERS CAFE
The Members Cafe is a cool and flexible space for informal meetings or for hosting an event. The design is light and airy, with a citrus-based colour palette of apple and orange, surrounded by intriguing illustrations as wall art.

CLUB RESTAURANT
Following a complete refurbishment of the Capital Club Restaurant, it can now cater for 70 covers in a luxurious and relaxing space with its own wine wall, surrounded by soft fabrics and colour hues of blue and gold to create a unique 'fine' yet accessible dining experience.

CHABLIS BAR
The Chablis Bar is home to the largest selection of Chablis wines you can find in Dubai, boasting an ever-growing list of more than 30 varieties of this crisp, tart, dry grape. This speakeasy-style bar is perfect to unwind before dinner at the Club Restaurant or retire here for a nightcap.

MEETING ROOMS
Our private meeting spaces allow our Members to tuck themselves into corners and to privately confer with colleagues, host a business meeting or private webinar. Host your meetings and events with packages which can be tailored to fit any event style - whether you're hosting a conference, seminar, luncheon, or reception.

PRIVATE DINING
With unrivalled service, elegant ambience, and full F&B personalization, private dining experiences at the Capital Club Dubai are unparalleled. Host your intimate dinners, cocktail receptions, or mini events here.

TERRACES
Beautiful, alfresco setting in the heart of DIFC. Botanical Garden and Bollinger Garden are ideal for relaxed after-work drinks, al fresco brunch scenes, or hosting intimate gatherings.

BARBERIA ITALIANA
Barberia Italiana is an authentic Italian barbershop offering an unmatched experience for men who live that dapper life.

D5
D5 gym is a high-performance facility, catering to the demands of the modern executive, focused on delivering results to each and every client.
Club Rules
Dress Code Modern business attire or national dress is the appropriate standard. Athletic wear is only permitted on the second floor, where the Fitness Centre is located.

Age Restriction Children 16 years or older are allowed in the Club only after 6:00 pm and need to be accompanied by an adult. Children over 10 are allowed in the Club on Saturdays.

Dogs No dogs or other pets, except for guide dogs and other qualified handicap service dogs.

Smoking Only in designated areas.
Opening Hours
| | |
| --- | --- |
| Monday | 7:00am – 12:00am |
| Tuesday | 7:00am – 12:00am |
| Wednesday | 7:00am – 12:00am |
| Thursday | 7:00am – 12:00am |
| Friday | 12:00pm – 12:00am |
| Saturday | 12:00pm – 12:00am |
| Sunday | 7:00am – 12:00am |
More Information
Additional Charges
A service charge is included in all prices.
Parking
Valet Service, 3 hours free parking
Contact
Tel

+971 4 3640111

Fax

+971 4 3637259