Empyreal Club (In Development)
Jaipur,
India

Jaipur,
India

Jaipur,
India

Jaipur,
India

Jaipur,
India

Jaipur,
India
A modern day Club & Hotel with a touch of Cosmopolitan luxury, right in the Heart of Jaipur. A members' fraternity, where the elite and the intellectuals, businessmen and industrialists, corporates and professionals and those who enjoy leisure and luxury, shall rub shoulders with each other. Experience five-star Hospitality at the most moderate prices.
Situated in the metropolitan haven of Jaipur's southern end, facing the gleaming Jaipur International Airport. Empyreal Club is a modern day architectural marvel which blends the magic of luxury living with endless avenues of comfort. Empyreal is Jaipur's one and only luxury escape where the members seek to push the boundaries of their current lifestyle towards excellence.
City Club

Conference & Meetings

Athletic

Swimming Pool

Tennis
Right Next to Jaipur International

24-hour Dining Facilities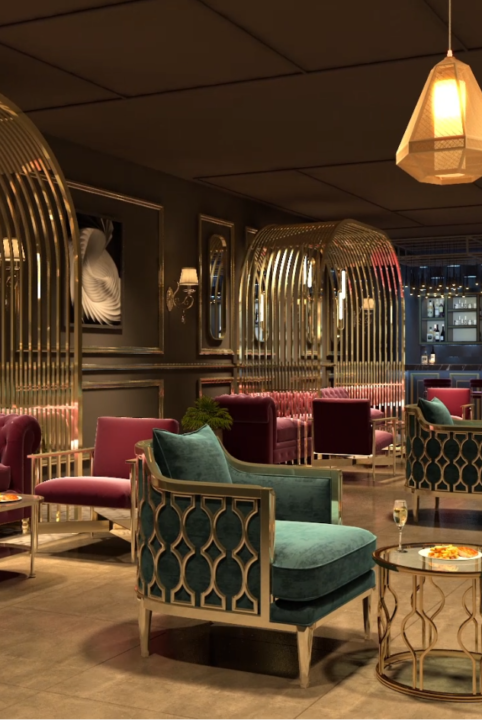 Amenities
The Empyreal Club is crafted to provide a cruise lifestyle experience on land. It encompasses more than 50 amenities and activities to give a touch of cosmopolitan luxury, positioned right opposite to Jaipur International Airport.

The experience begins with luxurious 5-star double heighted lobby with live piano music and soothing ambience, a concierge desk and guest relations services. We have six high speed elevators for faster connectivity between all the floors.

Enter into our unmatchable Sportsplex which offers multiple badminton, squash, tennis courts and indoor football & basketball court. Our holistic gym equipped with functional and cross training, zumba and dance studio, pilates, kick boxing arena that will keep your spirits high at all times. Rejuvenate yourself at one of the largest spas in the country which has a huge choice of treatment rooms, massage rooms, hot and cold Jacuzzis and a quiet room to calm your senses.

The Club also has multiple Resuarants and Bars offering world-class cuisines with Empyreal Signature Dishes, from an Indian restaurant to a multi cuisine roof top restaurant to a 24 hours open Café, a sports bar and Gazal Bar. Our nightclub will become the new party destination in the city stealing the limelight.

Our focus is to make this club as a "Family Oriented Club" which will cater to all age groups and have "Something For Everyone". A full family arcade having multiple activities for entire family like bowling, ice skating, karaoke rooms, and simulation & gaming area, net cricket etc.

For the first time, we are also introducing Teen Club which will be accessible to all the teenagers having specially designed independent zones and activities exclusively for them.

Our magnanimous Auditorium will change the culture of the city because we will be hosting Broadway Shows, musical concerts, comedy nights and acrobatic performances etc. every week.

We are also offering one of the most breath-taking infinity pools of the city having an unobstructed view of Jaipur International Airport. Empyreal Club shall also possess a rooftop water park, with multiple slides. For the first time in North India we are introducing flow rider which will give the live experience of surfing in ocean and a cushioned rooftop jogging track with panoramic view of the city. The club will also have the largest banqueting facilities in the city for more than 1000 covers & a 100 keys luxury hotel with all the latest & most modern amenities.

Empyreal club is a one-stop destination and ideal solution for all intellectuals to experience endless avenues of world class sports & fitness, family entertainment, health & wellness, luxury lifestyle & fine dining, business & social networking and nightlife, around the clock, in the Pink City, Jaipur.
Club Rules
Dress Code -

Age Restriction No age restriction

Dogs Not Allowed

Smoking Allowed