Golf Club Bologna
Monte San Pietro,
Italy

Monte San Pietro,
Italy

Monte San Pietro,
Italy

Monte San Pietro,
Italy

Monte San Pietro,
Italy
Golf Club Bologna was founded in 1958. The 1st Golf Club in Emilia Romagna and the 20th in Italy. The Club prides itself for following its traditional roots of being a place where friends, that share the same passion, congregate to spend time together playing golf. Several families are represented with 3 generations of members.
The Club welcomes visitors from all over the world to enjoy in the delight of meeting the challenges of one of Italy's most highly rated and traditional courses. With more than sixty years of rich history, you will not be disappointed with the stunning scenery, fabulous clubhouse with marvelous catering and warm hospitality.
Preferential rates/offers for IAC members:
10% discount on green fees for the months of January, February, March, August, November, December.
Golf Club

Cart Hire

Caddy Hire

Academy

Swimming Pool

Conference & Meetings
Via Sabattini, 69
Monte San Pietro 40050
Italy
Nearest Airport
20 minute taxi ride
Swimming Pool
Open from May to September
18 Hole Course
Designed by Cotton & Harris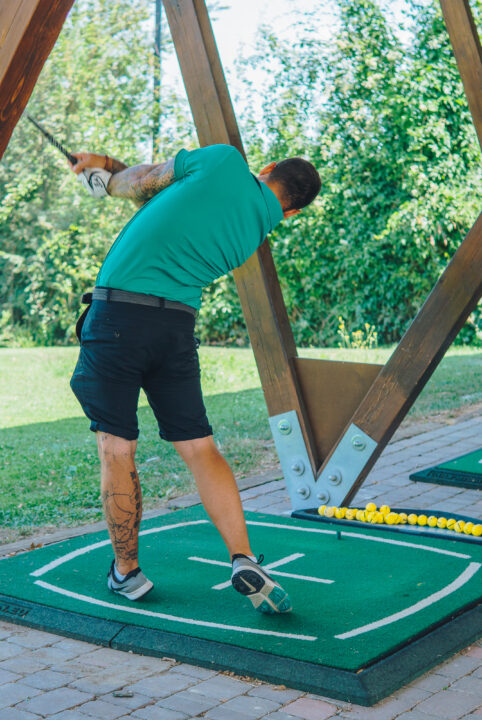 Amenities
Golf carts, swimming pool, pro shop, bar, restaurant, cards room, dressing room, Wi-Fi. The chef is renowned for the capability of serving the utmost culinary specialty of Bologna, the traditional tortellini. Freshly prepared and wherever possible sourced locally, there is good food to be enjoyed all day, from a breakfast menu to prepare you for the round ahead to a tasty and varied lunchtime offering of sandwiches, filled baguettes and main meals, including daily specials, and on to excellent evening dining.
Club Rules
Dress Code Smart Casual with proper golfing attire. NOT acceptable: denim wear, combat trousers, track suits, jogging suits and variants of these, collarless tee shirts. Shirts outside trousers are not to be worn on the course, golf shoes must be worn on the course.

Dogs Dogs are allowed on the course, not allowed inside the clubhouse.

Smoking Not Allowed
Opening Hours
| | |
| --- | --- |
| Monday | Closed |
| Tuesday | 8:30am – 6:00pm |
| Wednesday | 8:30am – 6:00pm |
| Thursday | 8:30am – 6:00pm |
| Friday | 8:30am – 6:00pm |
| Saturday | 8:30am – 6:00pm |
| Sunday | 8:30am – 6:00pm |